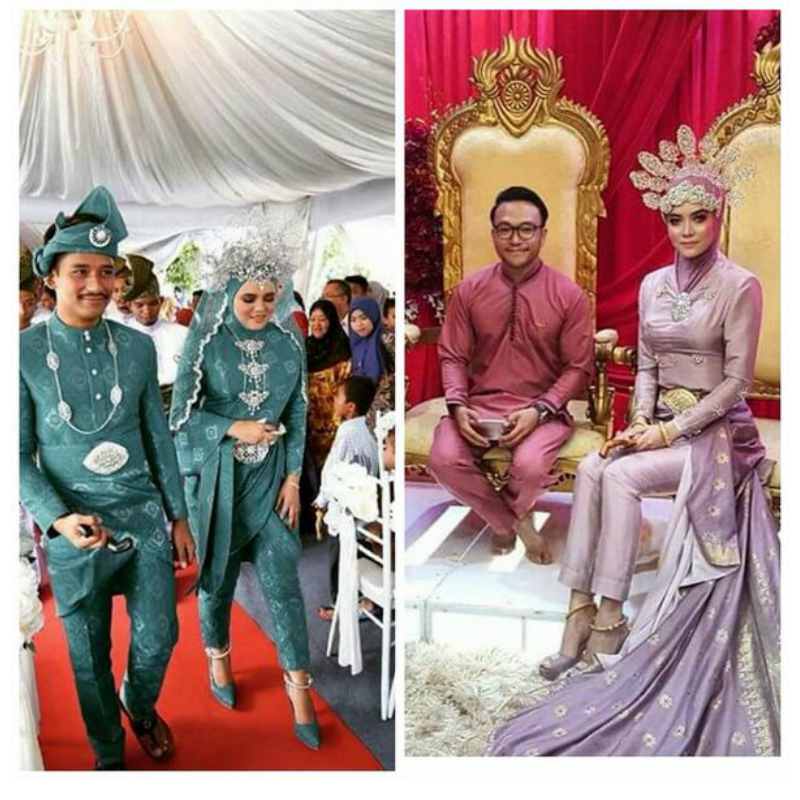 The wedding of Shaheizy Sam and Syatilla Melvin had received the title of "wedding of the year" when they were sponsored for the whopping RM25 million for their wedding. When the bride, Syatilla Melvin wore the traditional Perak attire, Puteri Perak, it opened the eyes of many Malaysian. The traditional attire caused havoc to the whole nation because of how rare it is for brides these days to wear such sophisticated and tradition outfit, on their wedding day even!
Wan Ruzaini's bride also wore the traditional outfit during their wedding day and she looked stunning and elegant. The songket made her look more elegant and different than any other brides. Rizman's designs had amazed us all once again with his unique way of structuring and playing with textures with culture incorporated in the outfit.
Puteri Perak is a traditional costume for the princesses of Perak to wear generation after generation. This traditional wear amazes us all for looking so unique yet elegant. The original outfit is made of matching top and bottom with wrap songket on the waist to finish off the look. The top will have a high collar neck called cekak musang, which remained unchanged until now. The improvised look had incorporated cekak musang into the baju kurang and baju melayu to maintain the original look. Today, the Busana Puteri Perak costume had only been worn by the Perak-born brides to relive and keep the tradition going to make them feel like a princess on their wedding day.
Although it is a tradition costume for the Perak princesses to wear, it's rare to see Perak-born brides to follow this tradition. However, because of the celebrities who had not only make the tradition alive again, they had also sparked Malaysian's interest to follow their footsteps. Which it is a good thing considering it made people realise there exist this traditional wear from that was passed down from generation to generation.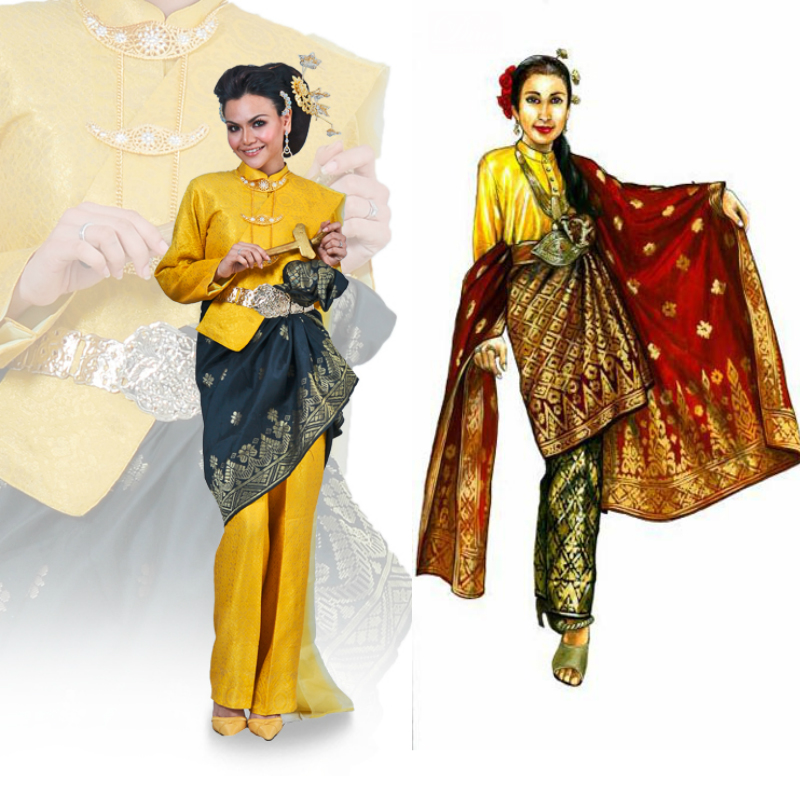 So the question is, is Puteri Perak traditional costume, becoming a trend of wedding brides? Could the traditional, basic wear be a trend for today's brides to wear on their wedding day? Would it be a trend for all women to feel beautiful and a princess on their special day?
We think it is.
Look how gorgeous the Perak-born brides wearing the Busana Puteri Perak costume on their wedding day! They look so sophisticated and elegant at the same time. The princesses of the day deserve to feel beautiful and special. This costume is meant to make the princesses of Perak feel beautiful because they deserve it. While it makes the princesses of Perak felt beautiful, the one-day princess should be able to feel beautiful too on their wedding day.
One by one of today's brides wore this unique costume so we think that this traditional costume is becoming a trend—it's a good thing! Incorporating a culture in weddings is one way that our cultures to stay alive. These days, weddings are being modernised and while that is not necessarily a bad thing, there is nothing wrong in bringing back the old ways. Like the phrase back to basic, we thought we should make this costume a comeback in 2016. Instead of wearing a dress, or a gown, why not Malaysian brides wear traditional outfits?
Should Malaysian keep the tradition going?
Yes! We feel the need to emphasise this. Yes! Yes, we think the tradition should keep on going to maintain our unique culture. The former Miss Malaysia Carey Ng had worn the Puteri Perak costume during the National Costume of Miss Universe show back in 2013. She looked stunning in the gold Puteri Perak costume designed by Syomir Izwa. We believe in order to keep our culture alive; we should incorporate and follow the tradition in any way that we can, in this case; weddings.
Since weddings are the best way to include our rich culture, it is the best way to advertise too. And since the brides will become a princess on their wedding day, what better day to wear this beautiful traditional costume other than on the wedding day?
If you would like to see the inspiration to wear this unique and stunning traditional wear on your wedding day, you could look at these outfits for some inspirations!