By Aisin
Whether you and your newly wedded spouse are fans of skyscraper silhouetted city sceneries or seclusions in a low density villa – Kuala Lumpur has so much to offer. Rest assured that you will yield the most rewarding experience during your stay, if you decide to just stay in all day, explore outdoors or even both!
1. Villa Samadhi 
Secluded pool lagoon right outside the bedroom
Natural materials used in the interior of the bedroom
Discreetness and privacy is the ambience in this hotel that empowers you to feel like you are nestled in your own private villa, right in the heart of the vibrant big city life of Kuala Lumpur, making it the perfect hotel for honeymooners who opt for a city getaway.
Dive into the huge pool lagoon straight from your personal balcony to enjoy the sun or the starry night, or soak up in the plunge tub in your own bathroom anytime of the day. There is nothing more blissful than being surrounded by an orchestra of bamboo, dried grass, raw timber, and charcoal floors, lose all sense of time, and just be yourselves.
2. Hotel Majestic
Colonial style architecture with a modern pool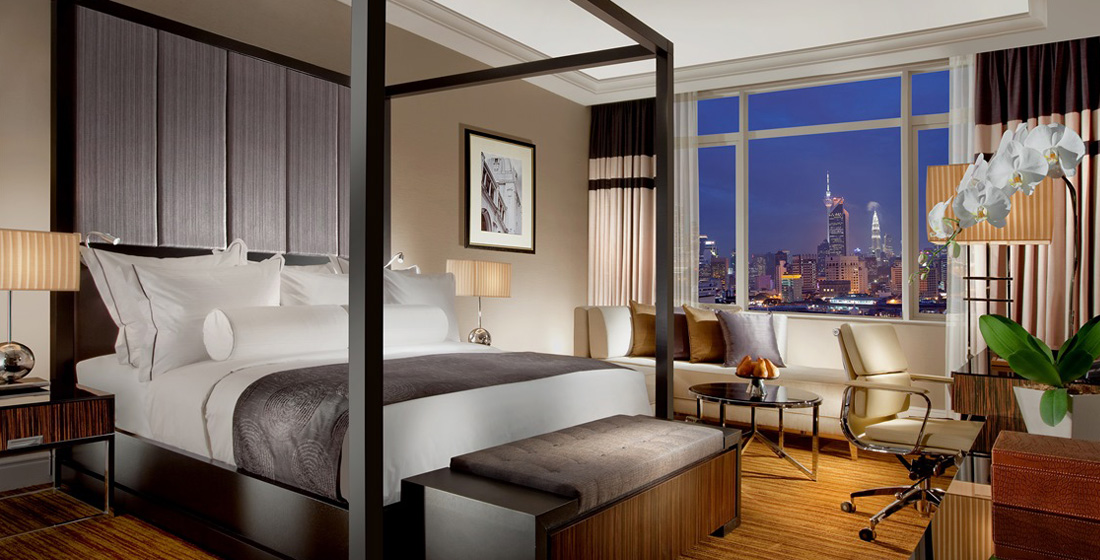 A cozy four poster bed with breathtaking view of Kuala Lumpur
Bask in the richness of Kuala Lumpur's colonial heritage, in this hotel originally built in Dutch neo-classical architectural style with tall white Roman columns in the year 1932, neighbouring the Moorish style railway station, another famous landmark of Kuala Lumpur. It has recently been restored and renovated to keep up with the contemporary definition of luxury and grandeur.
Draw your curtains to embrace a view of Kuala Lumpur's city skyline, and stay pampered with interior and furnishings designed with elegance and luxury. For a change, go to The Drawing Room for traditional English Afternoon Tea, or The Reading Room to enjoy the company of books.
3. Ritz Carlton
Wake up at this prestigious address in Bukit Bintang 
Sit down, relax with fine culinary presentations to the classical notes of the grand piano
Ritz Carlton allures you with exclusive experience to explore the sights, sounds and flavours of Malaysia. You can indulge in tranquilizing spa experience, top notch cuisine or simply relax in the exceptional comforts of your room, with the availability of a full butler service.
Upscale shopping, dining and entertainment is just a doorstep away. Step out for retail therapy in Bukit Bintang with the presence of the remarkable Star Hill Gallery or The Pavillion. Budgeted shopping malls like Fahrenheit 88, Sungei Wang Plaza and Berjaya Times Square are just a stone's throw away.
4. Hotel Maya 
Contemporary and compelling interior design
Bamboo panelling with flowing water
Close proximity to the iconic Petronas Twin Towers, Hotel Maya is an embodiment of class balanced with a fresh design. Equally accessible is the Dewan Filharmonik Petronas concert hall, home of the Malaysian Philharmonic Orchestra, for you and your other half to enjoy a night of soul soothing classical music.
Alternatively, snug with your loved one in the comfort of your bedroom, with DVD players and complimentary access to the DVD movie library. You also have the luxury to enjoy the service of a personal chef in your suite.
The hotels listed above offer specially crafted or personalized honeymoon packages for newly-weds. Get in touch with them to find out more on what is in store for you.
Log onto Wedding.com.my to see what's in store for your honeymoon getaway!