Hello to all the travel junkies out there! If you're looking for a place to hold your wedding, a romantic honeymoon or simply just for a holiday with your significant other, this is the article for you to set your travel goals on.
Feast your eyes upon these gorgeously and naturally colourful places all around the world! One can dream of hosting their wedding in one of these places – imagine yourself surrounded by your closest family members and best friends in these breath-taking places and they are PHENOMENAL. These are not imaginary places, they are REAL! Scroll on down for some wander-lusting eye candies you're about to see.
Lavender Fields @ Provence, France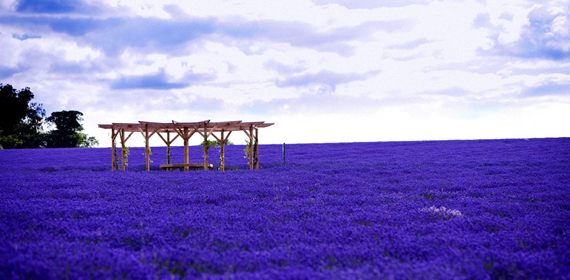 The Lavender Fields in Provence at South-eastern France. It is most beautiful during the summer months from June to August. Besides it being a beautiful & peaceful place, it's also very accommodating to both locals & tourists. With a museum full of Lavenders, restaurants, outdoor activities & wineries to visit, it's the perfect place to enjoy a quick, relaxing weekend getaway or romantic holiday with your loved ones. 
Tulip Fields @ The Netherlands, Holland
Also known as the Flower Fields, it literally lives up to its name. Tulip Fields is the place you would like to go to especially if you LOVE fresh & beautiful blooms like these. These flowers bloom to life at the end of March until mid May. Since bicycles and cycling are Holland's trademark, feel free to cycle through this natural landscape & enjoy the local culture at the same time! The winding routes will take you from the historical city of Leiden to the beautiful town of Haarlem. Visit the world famous Keukenhof too while you're there!
Great Barrier Reef @ Queensland, Australia
One of the many prides of Australia, the Great Barrier Reef is located off the coast of Queensland. With the clear, blue seas, beautiful fish & coral reefs, it is no wonder it's one of the top 7 natural wonders of the world! The Great Barrier Reef is a great place to go scuba diving, snorkelling, cruise ship tours, educational trips, whale watching & also swimming with dolphins! 
Luoping County @ China
This small county in eastern Yunnan, China is located about more than 200 kilometres north east of Kunming. The best time to visit Luoping is during February through March & by June, the flowers will all wilt & the beautiful show would be over. Photographers from across the globe flock Yunnan to take pictures of this magnificent land of yellow rapeseed flowers & besides that, Luoping is a national base for raising bees & producing honey products!
Valley of Flowers National Park @ Uttarakhand, India
Valley of Flowers National Park is located at Uttarakhand, a beautiful state in the Himalayan North of India. It's over 88 square kilometres and it's listed under the national park category of India. Besides its outstanding natural scenery, it is also a home to endangered species & native alpine flowers. It's a home to snow leopards, musk deer, red foxes, Himalayan Black Bear and others. The best time to visit this national park is throughout July to August when the climate is best for trekking around the valley. Temperature ranges from a minimum of 7°C to maximum 17°C. There's an entrance fee of approximately USD $10 for a three day permit at the entrance of the park.  
Shibazakura Hill @ Chichibu, Japan
Also known as 'Moss Pink', Shibazakura Hill is located at Hitsujimaya Park close to & at the foot of Chichibu City's symbolic Mount Buko. The whole ground of the park is a beginning of a surreal reality of pink, purple & white flowers. There are about 400,000 of 8 varieties of Shibazakura plants & they start blooming from late April to mid May. Apart from Shibazakura plants, about 1,000 cherry trees, including yoshino cherry, weeping cherry, and double-petal cherry trees which are planted in the park blossom in April as well.