By Khalidah Abdul Hadi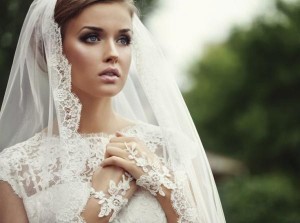 Dear Bride-to-be,
Choosing your wedding dress must be a bit hard for you since there are tons of fashions out there. But, to find the right one is not that quite easy ones say. Most brides this day wishes to have the latest trend of wedding dress on their wedding day. Chin up ladies! This Spring and Fall Season will be the happiest moment as the designers are working on with something just for you. Yes, You!
Famous designers such as Vera Wang , Monique Lhuillier, Carolina Herrera and Amsale are among the top designers that have designed you the most perfect wedding dress ever and not to forget the most updated too! What will this season be known with? Let's have a look on what is happening at the runaway.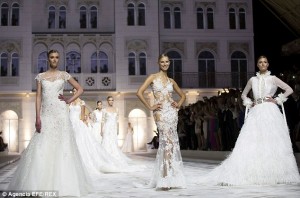 Who doesn't want to be the main actress or the Princess on her big day? A princess is always known with a flare and light skirt such as tutu skirt of ballerina since we were a kid from the famous story of Cinderella. To let the bride-to-be experienced on how to be the exact princess on her wedding day, designers pay more attention on materials chosen and this time Tulle has been selected. The word Tulle comes from France in 19th Century and has been known since then. Tulle is a type of sheer silk, rayon or nylon net used chiefly for veils and ballet costumes. Well, not anymore. Today is all about tulle wedding dress! Yes! Let's browse the latest fashion of wedding dresses this season by using tulle.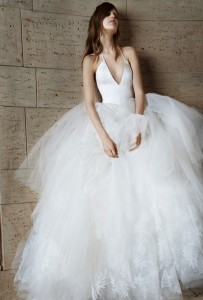 Vera Ellen Wang as known as Vera Wang has never disappointed us with her fine cut dresses including this one (right picture). This American fashion chooses sleeveless silk charmeuse halter ball gown with a deep v-neckline and a full tulle skirt with Chantilly lace applique details to flaunt the beauty and simplicity of a bride.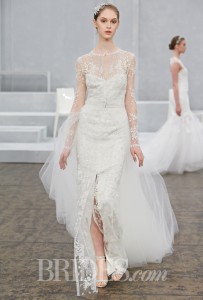 Monique Lhuillier, a well-known couture house owner based in Los Angeles, California now comes with a new fashion design for this season. "Fabienne" (left picture) is a long sleeve embellished sheath wedding dress with a front slit, tulle overskirt, and keyhole illusion neckline.
Carolina Herrera is a well-known designer to dress the First Ladies from Jacqueline Kennedy to Michelle Obama. This Venezuelan-American fashion designer has been known with her "exceptional personal style" . This Spring 2015, she comes out with "Celeste"  . A tulle ball gown wedding dress with all-over silver embroidered details and illusion cap sleeves.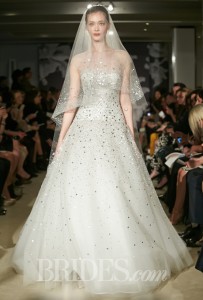 Celeste by Carolina Herrera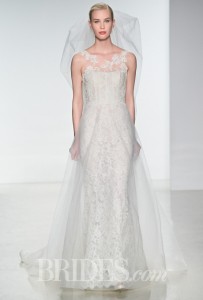 Ever wanted to wear any dresses in the famous wedding movie 27 Dresses?  Or ever thought of where Heidi Klum , Halle Berry or even Julia Robert get their dresses? Thanks to this Ethiopian-American born designer wedding dresses, Amsale Aberra that bride nowadays can feel like the main actress on their wedding day.
Sleeveless corded lace and tulle sheath wedding dress with an illusion high neckline is the next wedding dress that all women will fall for.
Now, every bride can be the perfect main actress on their special day it's the matter of the wedding dress only. So, choose one wisely today and get ready to be the happiest bride in the world!
Log onto Wedding.com.my for more details & other inspirations for beautiful decorations!