PRESS RELEASE
For Immediate Release
MELINDA LOOI IVORY – 2015 VINTAGE VICTORIAN BRIDAL COLLECTION
Kuala Lumpur, March 2015 – The Melinda Looi Ivory 2015 Bridal Collection is inspired by the Victorian era, which has been reinterpreted in a modern way but still holding onto the elegant, elaborate and feministic feel of the time. The aesthetic movement of modern fashion principles have been applied to the traditional Victorian styles that commanded elegance, class and timelessness.
"I love vintage and I love Victorian clothing from the 18th century; how the dress fall so beautifully with the right amount of volume. I tried to make a "today" Victorian style which suit the modern ladies," said the designer.
Architectural cuts to precious fabrics such as English Tulle, French lace, Italian Corded lace, Duchess Satin, Silk Chiffons and champagne colour lining, along with simple frank cuts and oversized dimensions made up the look of the collection.  These pieces are encrusted with outbursts of Crystallized Swarovski, fresh water pearls and glass beads; illuminating desired feature points and are done painstakingly by hand to create a truly one-of-a-kind wedding gown.
The imposed vintage spirit is showed in Melinda Looi Ivory's collection true to form – captured an ancient world of antiquity within a modern and hauntingly beautiful treatment.
PLEASE VISIT WEDDING.COM.MY FOR MORE DETAILS ON MELINDA LOOI
MELINDA LOOI IVORY
Melinda Looi ivory aims to transform every girl into an ethereally beautiful bride. From fresh and minimalistic to glamorously embellished, ultra-modern to classically traditional, each piece carries signature elements of Swarovski crystals, French lace, sensuous silks, and flowing chiffon that are present in any of Melinda Looi's creations. The detailed embroidery, sequins or beadwork are done painstakingly by hand to create a truly one-of-a-kind wedding gown.
YOUR PERSONALITY, YOUR IDEAS, YOUR WISHES, YOUR CHOICE
We offer total personalisation, one-stop solutions and luxury materials & detailing. The personalisation starts with you, the bride. We allow you to design every aspect of your wedding, so it is…simply perfect. Just what you need for a peace of mind before your big day.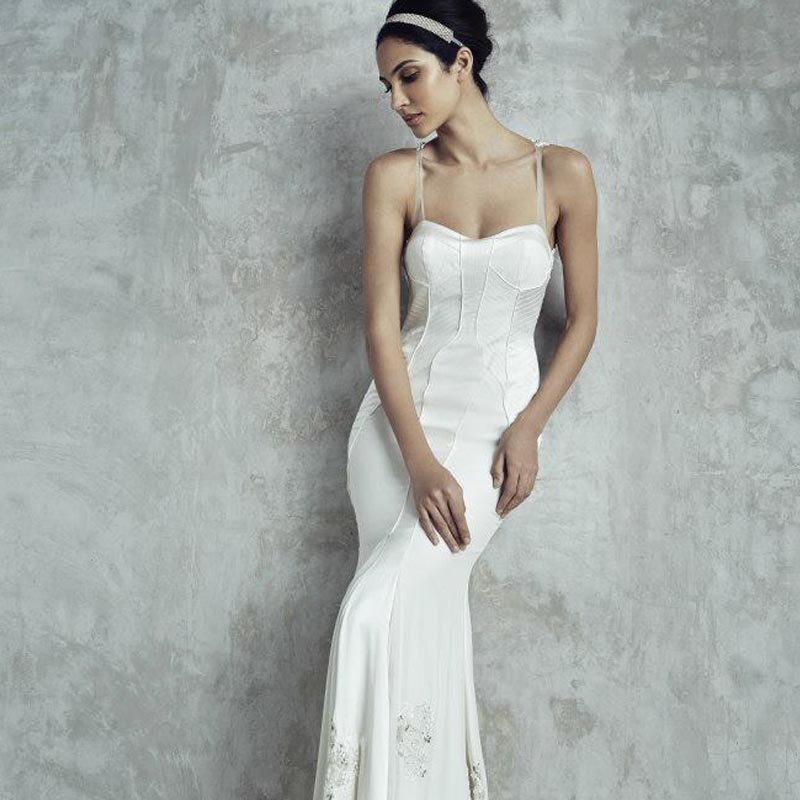 Sweetheart Silk Crepe Satin Gown Sweetheart Silk Crepe Satin Gown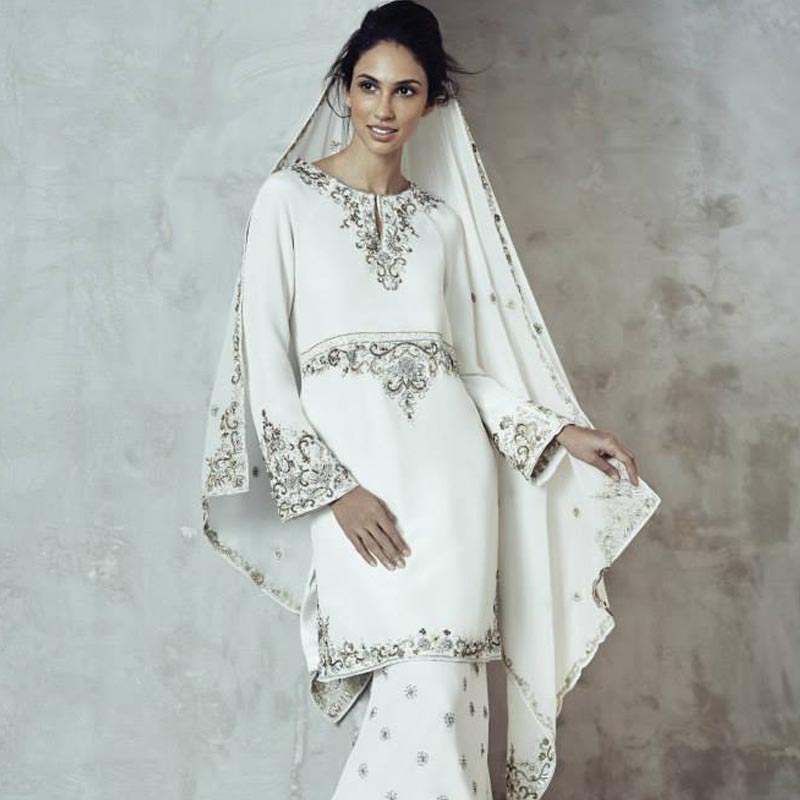 Modernized Traditional Baju Kurung
PRODUCTS AND SERVICES
Wedding dresses
Veils,
Wedding shoes
Evening gowns
Baju akad nikah
Baju songket akad nikah
Cheongsam
Bridesmaid
Flower girl
Ring bearer
ABOUT MELINDA LOOI
Melinda Looi started her journey on a scholarship at the La Salle School of Fashion in Montreal, Canada. It was her graduation collection in 1995 that catapulted her into the spotlight, earning her the Malaysia Young Designer Award 1995 in Kuala Lumpur.
Melinda has also been involved in various stage productions in Malaysia, as well as the television and film industry in Canada. She has consistently proven her ability and creativity through many awards locally and internationally, especially the prestigious Designer of the Year Award, in 2004 and 2006 at the Malaysian International Fashion Awards, and once again in 2009 at the Mercedes Benz STYLO Fashion Awards. Melinda's latest accolades include an award for 2014 Sport and Art Trophy from International Olympic Council, Switzerland.
Today, Melinda Looi has four distinct brands to her name, which are: Melinda Looi Couture, Melinda Looi Ivory (the designer's eponymous made-to-measure bridal collection), Melinda Looi Prêt-à-Porter, and MELL Basics; a range of organic cotton basics.
Besides working on her own fashion labels, Melinda is also involved in numerous and very diverse collaborations reaching from charities and eco-friendly events to art projects, as well as collaborations with international brands and corporates such as L'Oréal , Levi's, Nando's, and many others.
AWARDS & ACCOLADES
2014 IOC Sport and Art Trophy, Malaysia/Switzerland
Malaysian Representative at World Fashion Week 2014, Paris, France
Nominated for Fashion Designer of the Year at 3DPS Awards 2013, London
Winner of "Great Women of Our Time" Awards 2013 (Design & Style category) by The Malaysian Women's Weekly
First 3D Print Fashion Show in Asia, 2013, Kuala Lumpur
Designer of the Year 2009, Mercedes Benz STYLO Fashion Awards, Kuala Lumpur
Designer of the Year 2006, MIFW, Kuala Lumpur
Designer of the Year 2004, MIFW, Kuala Lumpur
Most Dynamic Designer 2003, MIFA, Kuala Lumpur
Asia Pacifica Young Designer Award 2000, Hong Kong
Winter Wedding Dress Contest 1997, Canada
White Creation Award 1997, Canada
ASEAN Designer Award 1995, Singapore
Cotton Award 1995, Japan
Malaysia Young Designer Award 1995, Kuala Lumpur
FOR MORE INFORMATION ABOUT MELINDA LOOI & HER EXQUISITE DESIGNS, LOG ONTO WEDDING.COM.MY FOR MORE DETAILS!