Marriage is a holy matrimony that takes two souls to merge into one lifetime partnership – it's also a nerve-wrecking experience to go through! Marriage might be too much for some people to handle, even for celebrities who have been with their partners for many years. It's normal to hear that engagements usually last a year or two, but not in this case for these celebrities! Many fans have been waiting for these celebrity couples to get married for the longest time and here's a list of the most anticipated weddings of 2014 below;
1. Brad Pitt & Angelina Jolie
Brad Pitt & Angelina Jolie's intimate wedding with their six children
The highly anticipated wedding – Jolie's sewn-on wedding veil had drawings by all of her children, adding a personal touch to her Versace gown tailored by Donatella Versace herself
The stunning customized dress tailored by Donatella Versace & Luigi Massi 
This couple's history goes a long way. Pitt and Jolie met while shooting on the set (nearly a decade ago!) of Mr. & Mrs. Smith (2005) in 2004. Rumours sparked that Pitt was having an affair with Jolie at the time, given that he was still married to actress, Jennifer Aniston. Aniston filed for a divorce on April, 2005. On January, 2006, Jolie confirmed with People magazine that she was pregnant with the couple's first child, Shiloh Jolie-Pitt, thereby publicly announcing her relationship status with Pitt for the first time. After 9 years of dating, the couple finally tied the knot on August, 2014, with all the couple's biological and adopted children present, in an intimate wedding in France.
2. Neil Patrick Harris & David Burtka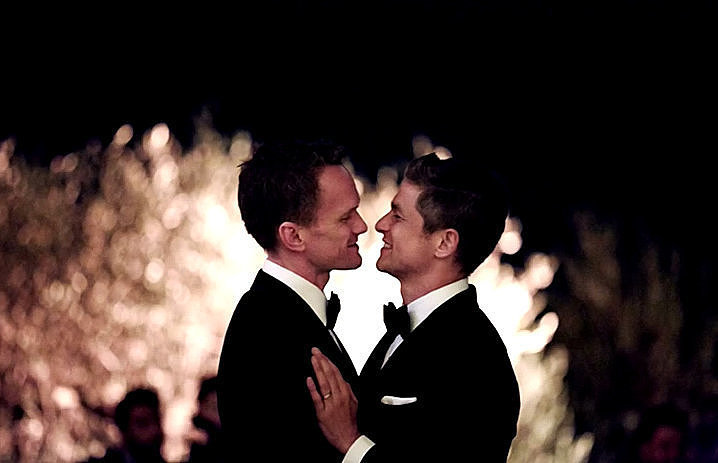 NPH & his husband, David Burtka, during their marriage ceremony in Italy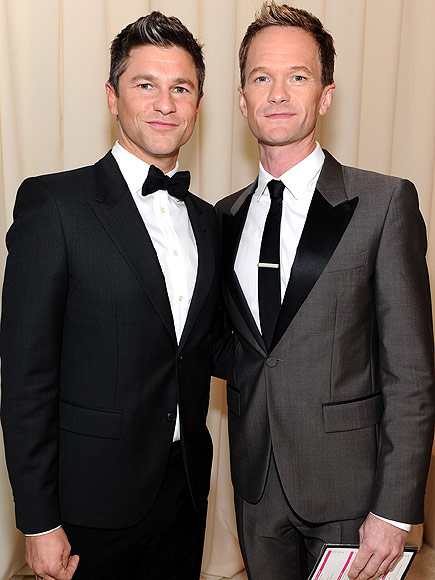 The happy couple have never been apart since meeting in 2004
The couple's good friend, Sir Elton John, made an appearance & sang at their wedding
The couple's fraternal twins, born via a surrogate mother in 2010, Gideon & Harper
Neil Patrick Harris and David Burtka met on set of the famous TV series, How I Met Your Mother, in 2004, but it is not until 2 years later that the couple publicly announced their relationship. Harris announced his sexual orientation in 2006 and attended the Emmy Awards in September 2007 with Burtka, later confirming the relationship. They had been engaged since 2006 and kept the engagement a secret until same-sex marriage became legal in the state of New York, where they're living. The couple were thrilled to find out that same-sex marriage became legal in 2011 and in September 2014, they finally announced their surprise wedding on Twitter over a weekend in Italy. Sir Elton John was a guest of honour whom performed at their reception. Much happiness for this couple!
3. Elton John and David Furnish
The couple and their young sons, Zachary and Elijah
The couple formally registered their marriage legally, a second time after their official civil partnership in the UK
Exchanging vows in their intimate ceremony
The cute couple's polished shoes ready for their wedding 
Elton John, 68, and David Furnish, 53, have been together for more than 20 years. The couple met at a dinner party back in 1993 and have consummated their love since then. The couple famously and publicly entered a civil partnership back in 2005 and finally tied the knot last December, 2014 at a celebration at their estate near Windsor Castle in London. The couple have two sons named Zachary and Elijah. Famous friends of the celebrity couple like Liz Hurley, David Beckham and Victoria Beckham and their sons, Ed Sheeran, Burberry CEO, Christopher Bailey, Hugh Grant and many more attended the wedding in style.
4. George Clooney and Amal Alamuddin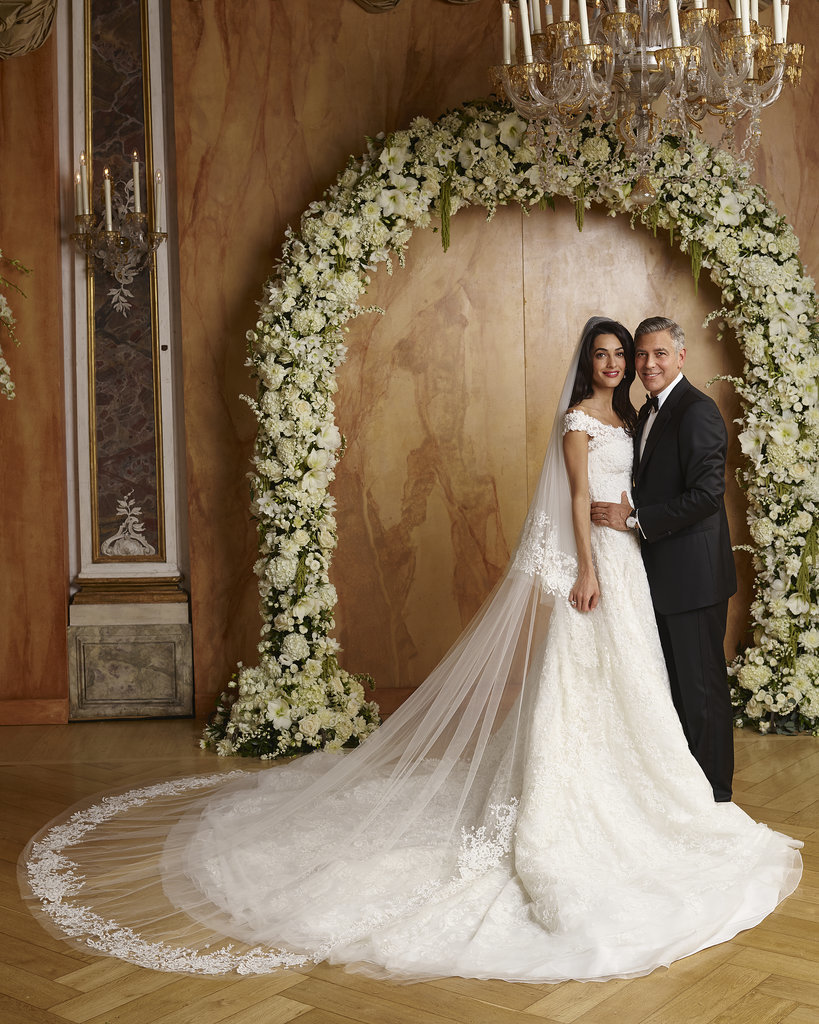 George Clooney and Amal Alamuddin wed: The beautiful bride was wearing a custom-made Oscar de la Renta wedding gown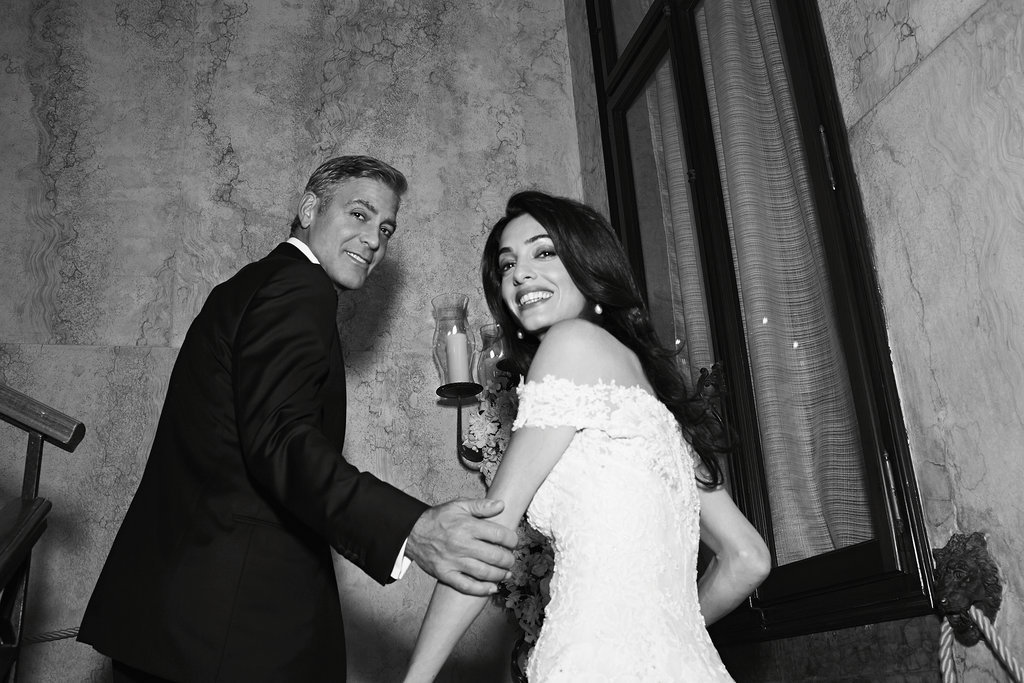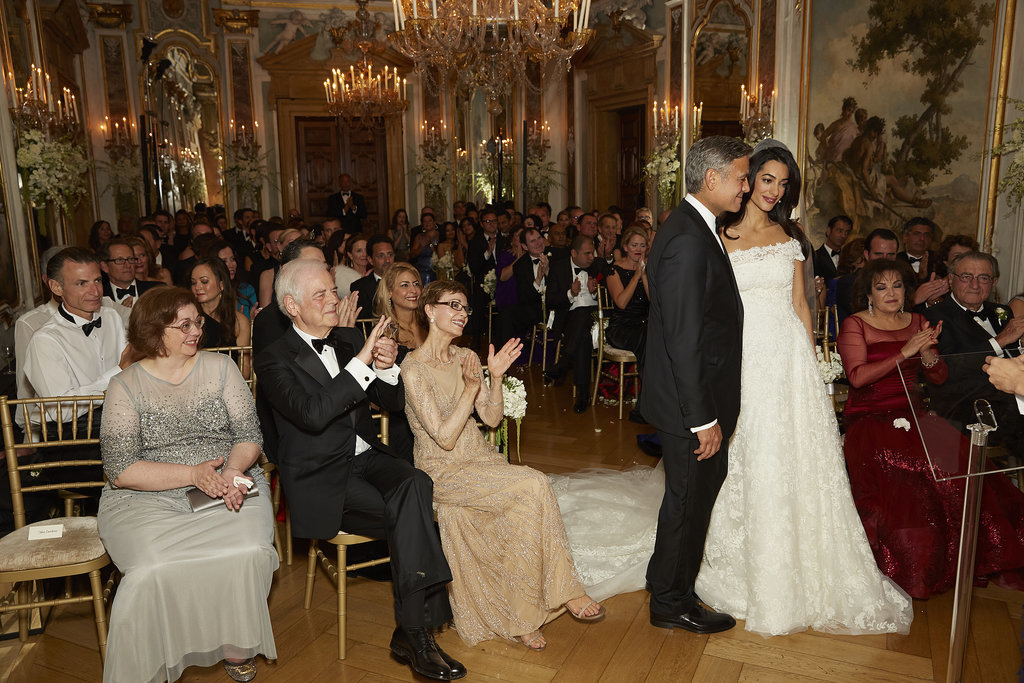 George and Amal all smiley during their intimate ceremony with close friends and family at Hotel Aman, Venice in Italy 
The couple met through a mutual friend in 2013 but allegedly refused to take his number at first. Clooney managed to get her e-mail address and the rest was history. Amal Alamuddin is a beauty with brains, a human rights lawyer, who is the legal adviser to the King of Bahrain and has represented WikiLeaks head, Julian Assange. The newly married couple had their first dance together as husband and wife at the Aman Canal Grande luxury resort in Venice, Italy, surrounded by their closest friends and family.