By Melissa Chan
These days, brides and grooms are getting more and more modern and many too, have tattoo(s). Many brides tend to worry if they should cover up their tattoo or not. Every tattoo is personal and it's a story on its own. In the end, it's you who should decide, instead of pleasing someone else. However, should you choose to show it off on your big day or during your photo shoot, here are few simple steps in doing it.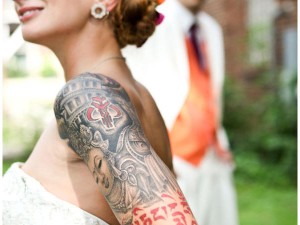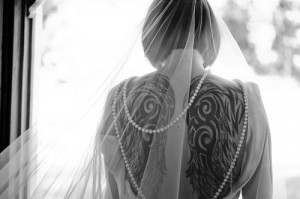 Whether you have a simple quote or word over your shoulders, on your back to a full arm sleeve, staying minimal is the key. Choose a simple dress, natural hair and make-up do, and minimized your accessories so your tattoos may speak on its own! Tips:
Upper arm, full arm sleeve to half and full back tattoos
Opt for a tube, spaghetti strap or bare back wedding dress to accentuate your beautiful ink! Pair it with pearls or simple diamond necklace for a bit of glamorous.
Small, simple and multiple tattoos
You may play around with more designs; add a little colour to your make-up and hair do, accessories with colour stones, and why not with a coloured dress. You'll look sexy, feminine and natural with your tattoos.
Use your tattoos as a theme
Using your tattoos as a theme is a fun idea! Dress up your wedding venue or photo shoot background according to your tattoos' colours and designs. Starting from your wedding guest's attire to the invitation card, whether you're a Rock & Roll, Punk, Feminine, Sexy, Bold bride! Let loose and go crazy with ideas as to complement those beautiful art pieces!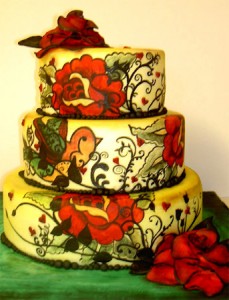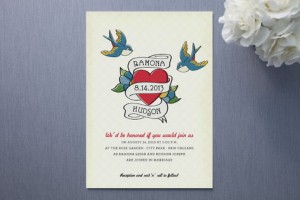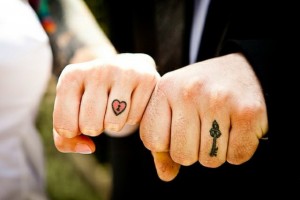 Instead of an eternity ring, why not get inked together? This is another cool way to complement your existing tattoo(s). However, make sure you do ample research on the ring tattoo designs and patterns as to avoid any mistakes. Tips:
Choose simple designs or lines, but do not go beyond 3 lines as the tattoo will be blur.
If you and your fiancé decided to get ink together, make sure to do it two weeks before or after the wedding. The stress that comes along while preparing for your big day is enough to drive you insane, and a newly inked tattoo needs time to heal and maintenance, which is the last thing on your mind. Why not 'unveil' your wedding ring tattoo on your actual day as to spice things up?
Whatever your decision is, you should look like YOU on your wedding day and in your photo shoot. If you have an artistic design or a simple quote, there is no reason for you to stress over it as it represents you. Relax and go with the flow so you may enjoy every single moment on your magical day!
Log onto Wedding.com.my for more ideas, beautiful wedding dress & other wedding inspirations!