How about appreciating your loved ones with a small gift but have a greater meaning to it? Experts in delivering the best for each one of the customers that they have since 1999, Diamond & Platinum promise to keep on delivering  an exemplary of precious little things that's famously known as a girl's best friend. Now, you can have choices for your wedding bands with the all New 4 Collections that will make your loved one's heart flutter! The all New 4 Collections are Pure Love, Promise, Unity and Earnest.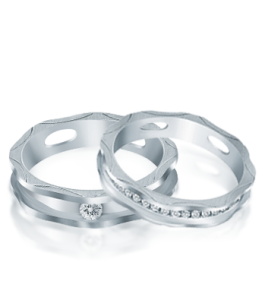 This stylish waved design wedding band features a round-cut diamond as the center piece for men with a row of small beautiful diamonds designed for the ladies. It is stamped with a linear design around the edge and it is also designed to be worn on a chain which is closest to your heart.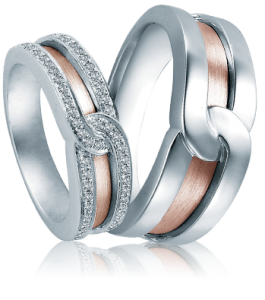 The newest addition to this collection features the first ever pair in the Promise Collection, which are beautifully blended rings made of Rose Gold and White Gold.