Ditch the conventional colours and opt for (ALL) the colours of the rainbow for your next wedding! Even if it's a day or night engagement party, intimate cocktail event for close family and friends or the big day itself, a colourful ambience will naturally lift everyone's moods up. If you're deciding on using more than 5 colours there are of the rainbow, then you're in luck! Check out the images below for more ideas and inspirations; whether the party's small or big. Your wedding will be so colourful, it'll definitely be eye poppin' without you even trying! 
 By Stephanie Leong
Indoor Décor
Geometry is everywhere!: It's a colourful, simple and trendy theme at the same time too!
What about this classical shape for your colourful decoration?: (above & below) Have round & colourful pastel paper lights floating atop of you & your guests while having fun!
Colourful balloons do great too if the lanterns are hard to get!
Crayons, anyone?: This is an inexpensive gift for guests and especially to occupy the children's time while the grown ups are having fun themselves!
Lego fans unite!: Another unique and memorable gift for guests 
Family tree wedding registrar: Instead of signing names on a book, colourful thumb stamping is a fun way of remembering your guests!
Now, let's move on to the exterior details of your engagement or wedding party. These ideas are suitable for outdoor day or night events.
Outdoor Décor
Small lit walkway: Walk your family & friends through this easy DIY lights that look amazing real life & on camera!
When the night comes: These genius DIY mosquito repellent lamps are perfect, especially for evening & night dinners or weddings
Fill romance in the air: Simple, quick-to-do & customized colourful ribbons can be used for these mini tied-on lamps
Want a chandelier?: Colourful, bright and creative floral chandelier. Customize it with flowers of your choice
Flower bulbs & jars: (above & below) Simply fill in some clear (or coloured!) water & top it off with one or a small bouquet of flowers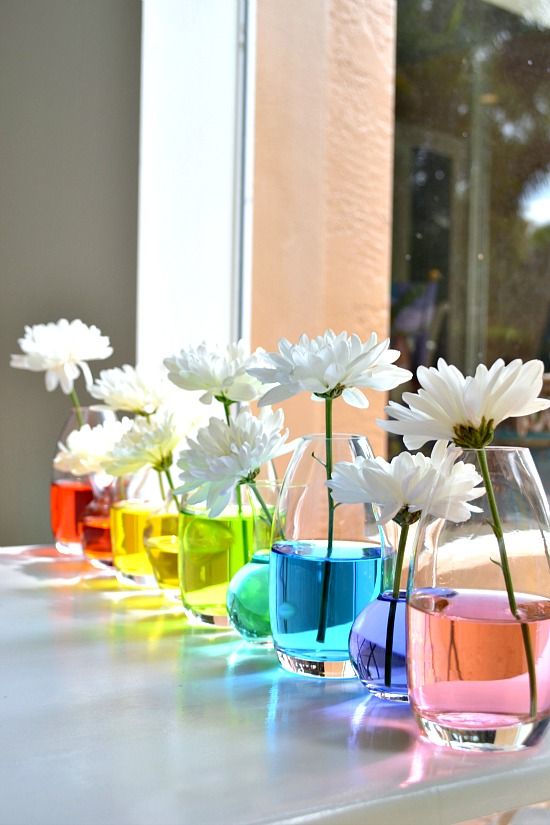 Colourful ribbons on chairs: Great for outdoor and garden weddings!
Colours of the rainbow: Perfect for unicorn fans!
Who loves cake? A cake is definitely compulsory in a engagement or wedding party and here's a list of the most colourful baked concoctions that will make you drool.
Colourful Cakes & Colour Palettes
Multi-colour layered cakes: Yummy, yummy for all your guests tummies!
Simple white cake with 3D butterflies: Grab a one-colour cake & decorate it with edible colourful butterflies at the side!
Beautiful tier cake: Care for some grapes & roses in your cake, Miss?
A beautiful example of an extensive colourful wedding
Live by the beach: A great colour scheme for beach side weddings
Warm summer wedding: Another tone of colours for summer weddings, great for South East Asian heat!
Ideas for Bridesmaids
Colourful & effortless: Colours of the rainbow for bridesmaids' dresses
More than just dresses: Besides dresses, bridesmaids can also sync their choice of dress colour with other decorations & accessories from the wedding venue
Colours galore!: (above & below) Colourful apparel for your bridesmaids
Log on to www.wedding.com.my for more ideas, dresses, designs, venues & many more for your dream wedding!
Photos are courtesy of Pinterest