Whether it's for usage on a daily basis or getting ready for a wedding dinner and looking your best, Bridal Trend Magazine Malaysia issue no. 15 is ready to take you on a journey to add these items into your beauty checklist!
Bridal Trend Magazine Malaysia is every bride's most trusted source of wedding inspiration and information of bridal magazine. We are as passionate as she is about her wedding that offers a wealth of ideas to help her create the day of her dreams. From the big decisions, like finding the perfect dress to the finer details of sourcing stationery in exactly the right shade of Tiffany blue, we expertly guide her through the wedding planning maze. (Sources by www.adqrate.com/magazine/details?id=212&type=2)
The first batch of Bridal Trend Magazine Malaysia has garnered popularity from young readers and brides-to-be ever since. With stunning photography spreads, ideas and inspirations for those who wish to plan a wedding, Bridal Trend Magazine Malaysia offers beautiful, glossy ranges of different types of wedding photography all in one!
By Stephanie Leong
Check them out in some of their beauty articles in Mandarin below;
Bridal Trend Issue #15 (November 2014-April 2015)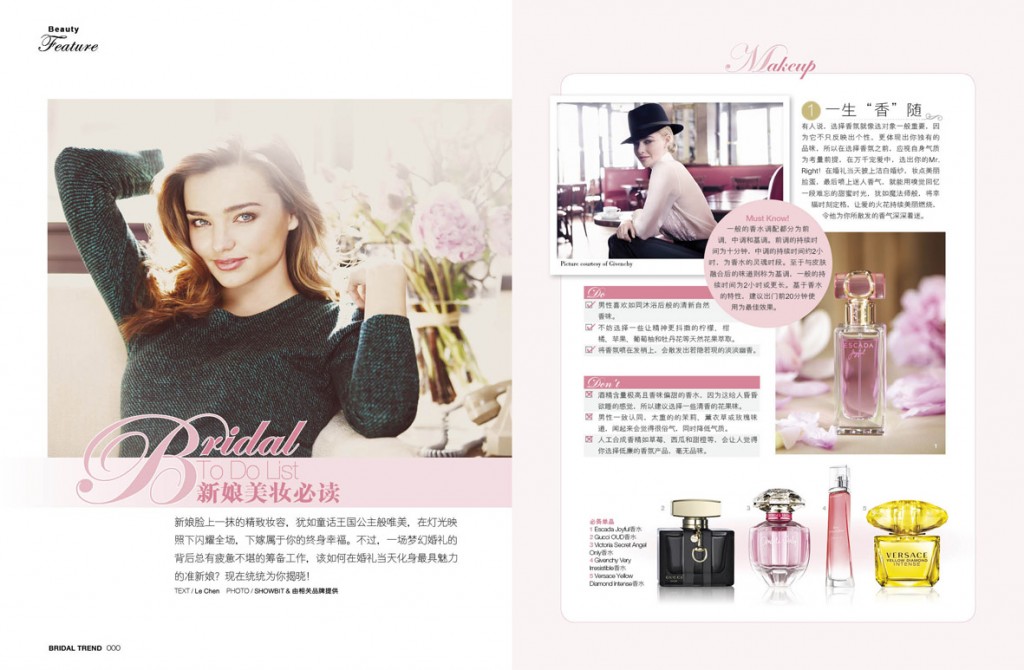 Must-Have Perfumes of Now: (From top to bottom left onwards) Escada's Joyful, Gucci's OUD, Victoria Secret Angel's Only, Givenchy's Very Irresistible & Versace's Yellow Diamond Intense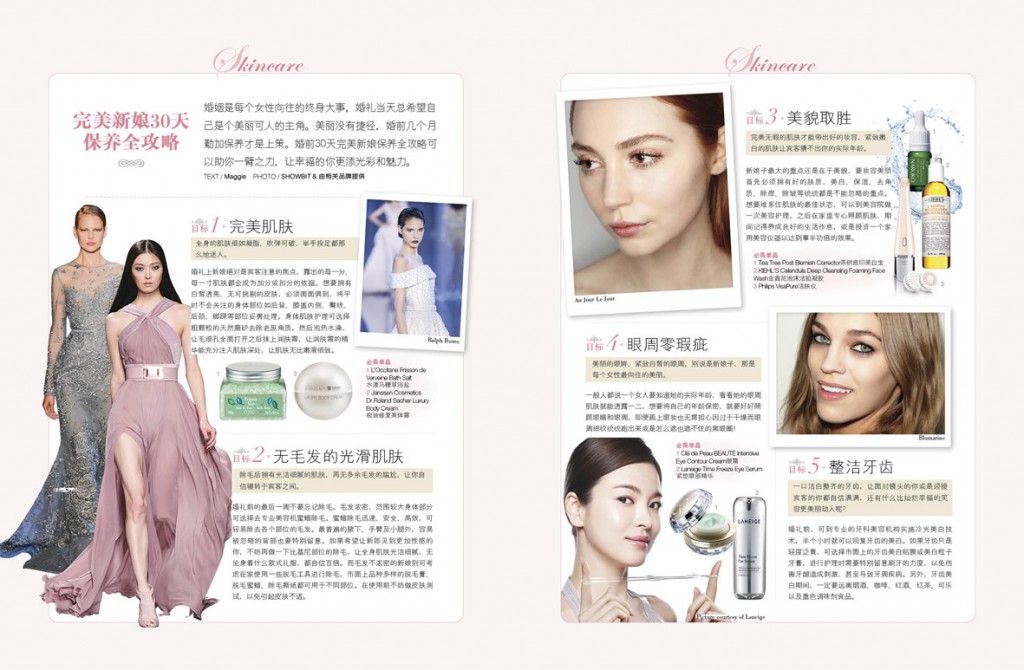 For Your Skin's Nourishment: (From left to top right downwards) L'Occitane's Frisson de verveine Bath Salt, Jenssen Cosmetics' Dr. Roland Sacher Luxury Body Cream, Naruko's Tea Tree Post Blemish Corrector, Kiehl's Calendula Deep Cleansing Foaming Face Wash, Phillips' VisaPure, Cle de Peau Beauté's Intensive Eye Contour Cream & Laneige's Time Freeze Eye Serum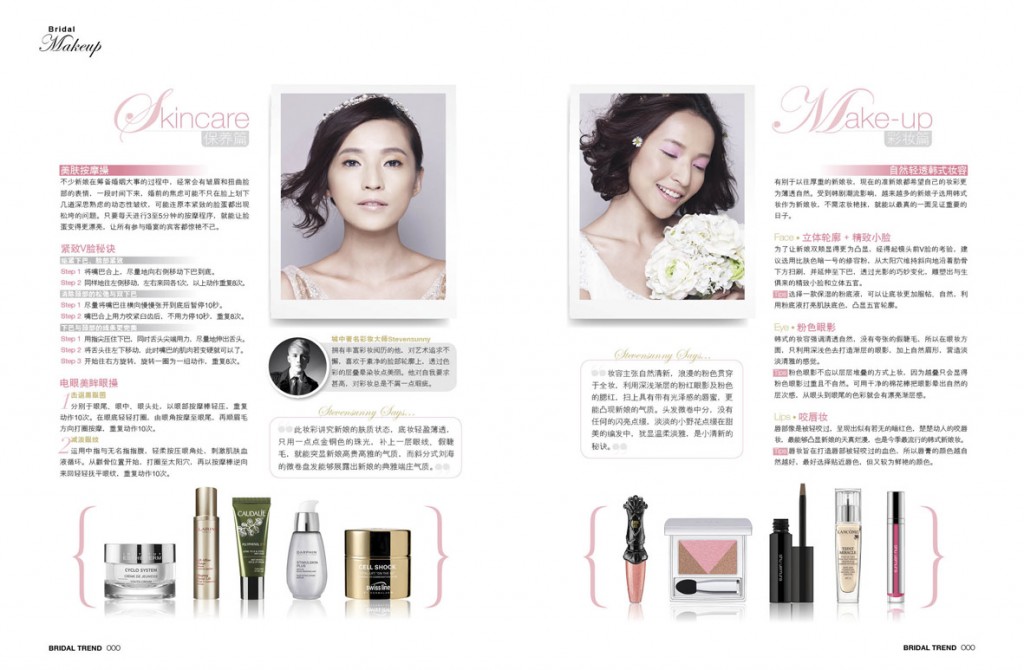 Prepping Your Skin Up For The Big Day: A range of skincare and makeup that suits a light, natural & sweet look for brides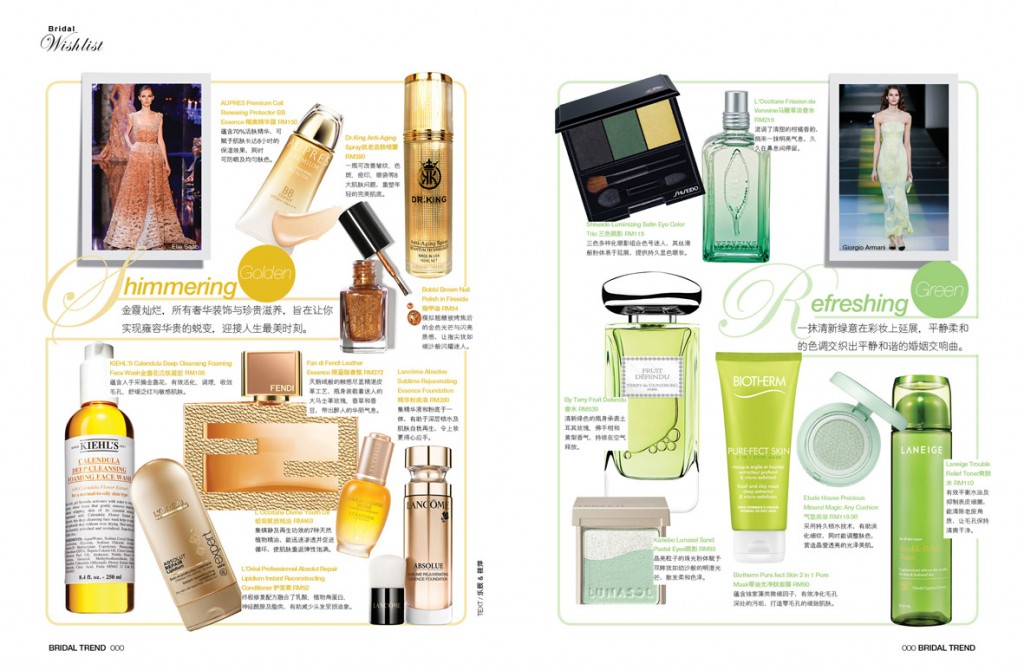 Shimmering Freshness: A selection of skincare and makeup products for different types of skin and looks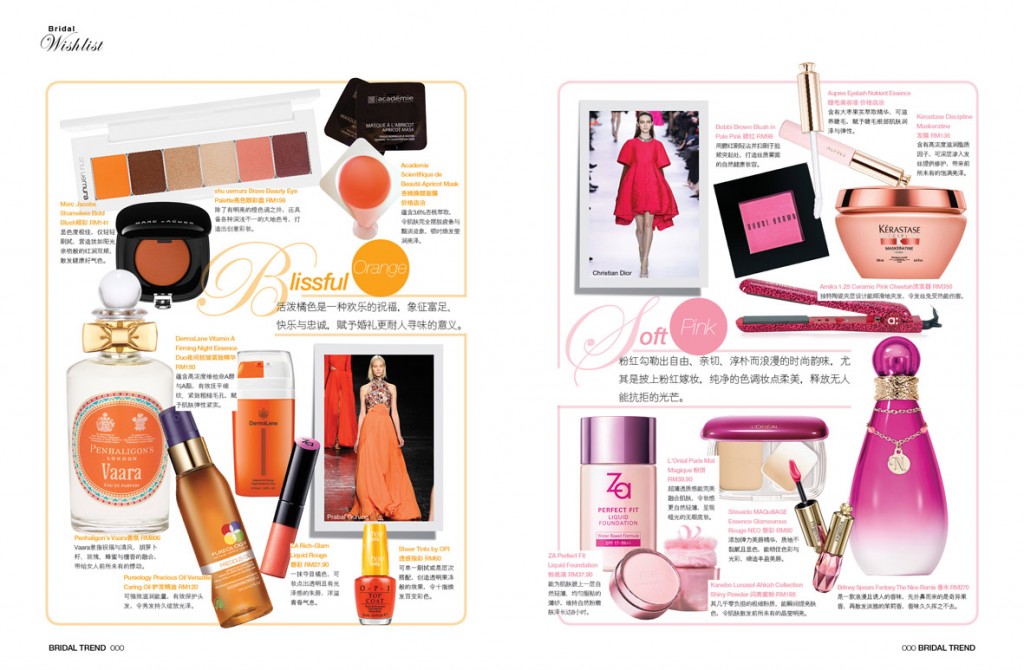 Fresh Orange and Pink Hues: Latest collection for a bright and fresh spring look
Check out Wedding.com.my for the latest trends in beauty right now!