Planning a wedding is never easy. With so many things to pay attention to, it's definitely not a last-minute job. Factor in all the many Chinese traditions and planning gets a whole lot harder. To help you plan your wedding, you can have a look at our ultimate wedding checklist to make sure you didn't miss out on any important aspects. Among all these aspects, one that cannot be forgotten is the Guo Da Li.
Though nowadays, customs and traditions are not as strictly followed due to modernization, this ceremony should still be followed. The Guo Da Li's purpose is for the groom's family to formally propose the union with the bride's family. When the bride's parents accept the gifts, it shows that the union is approved on both sides. In return, the bride's family returns some of the gifts as a sign of goodwill. This process is called Hui Li (回礼).
Guo Da Li (过大礼)
So what do you need to prepare as Guo Da Li gifts? The gifts actually vary depending on whether you're Hokkien, Cantonese, Teochew or Hakka. However, there are some general similarities as we will share with you. Just stick to this list and you'll have all you need to a successful union.
1 red packet as Pin Jin (聘金) (Usually with number 8)
2 Dragon Candles
2 Phoenix Candles
1 Prosperous Red Tray
2 Betrothal Red Basket
6 cans of Pic Trotters for Mother-in-Law (You can get this from supermarkets)
2 bottles of Hard Liquor (usually brandy) or wine (red/white) for Father-in-Law
8 – 12 Oranges
12 – 16 Apples
2 Coconuts
2 packets of Four Treasure Jin Guo (dried longan, red dates, lotus seeds, lily buds)
2 packets of Five Colour Auspicious Seeds (green beans, red beans, wheat, barley, soy beans, rice)
2 packets of Sweet Beginnings (rock sugar, candied winter melon)
Traditional Wedding Cakes (Number of boxes depends on how many that needs to be distributed. Ask your parents!)
Charcoal
Black Moss or Fa Cai (发菜)
1 Double Chinese Happiness Stickers
1 Red banner to hang above door
2 packets of White Sesame Seeds
2 cans of Tea Leaves
4 Gold Dowry Jewellery (necklace, ring, bangle, earrings)
Additional Things For Hokkien People:
Black and Red Basket
2 packets of Traditional Rice Biscuits
2 packets of Lao Ma Gor (only applicable is grandmother is still around)
Banana
Additional Things For Teochew People:
Straw Basket
2 packets of Traditional Sesame Biscuits
2 packets of Traditional Peanuts Candy
Additional Things For Hakka People:
Suan Pan Zi (算盘子)
Seafood (sea cucumber, abalone, scallop etc.)
Roast pork (can replace the trotters)
Additional Things For Cantonese People:
Gold Dragon and Pheonix Bangle
Seafood (sea cucumber, abalone, scallop etc.)
Roast pork (can replace the trotters)
Hui Li (回礼)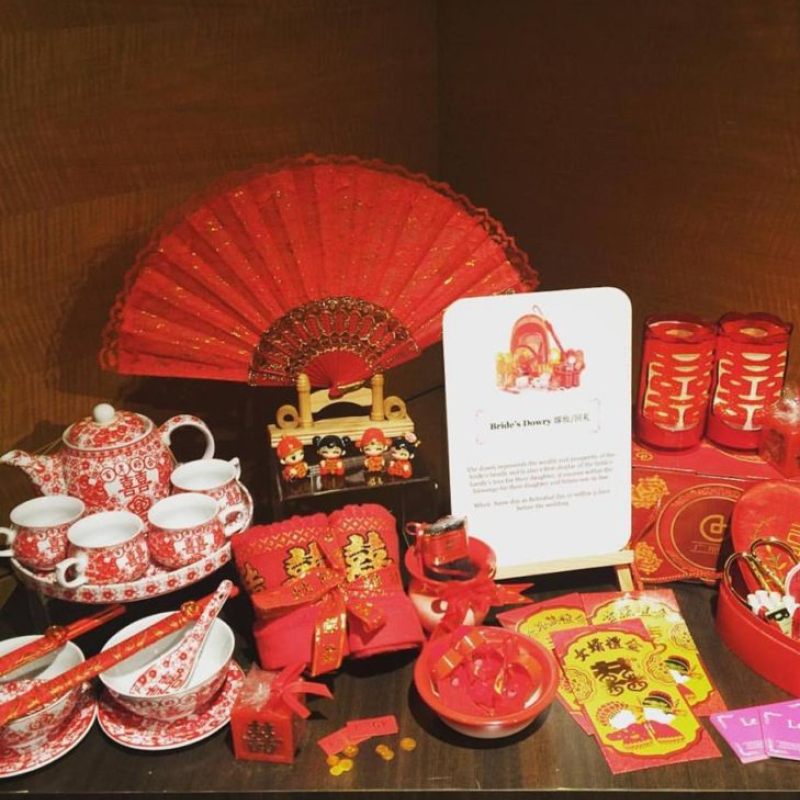 After receiving the gifts, the bride's parents then give the groom's family some gifts as a sign of goodwill. The gifts normally consists of the following:
1 Gold Male Accessory for the groom (ring, cufflinks, watch, belt, or a wallet containing an ang pao)
2 bottles of Orange Juice or Syrup
1/2 of the gifts given by the groom
1 pair of Wedding Candles (1 dragon and 1 pheonix)
Fa Gao (发糕)
*Cantonese only* Pants or suit for the groom
Dowry
After returning the gifts, the bride's parents will then give the groom some gifts. The groom will then bring these items to the bridal chamber.
1 Sewing Machine / Sewing Kit for the Hair Combing Ritual (上头)
1 Ruler for the Hair Combing Ritual (上头)
Furniture (bed, mattress or dressing table if any)
Essentials 子孙三宝 (toothbrush, toothpaste, towel, mug, bath basin, spittoon, wash basin)
Clothing and accessories for the bride (bag/purse containing ang pao, new clothes stuffed with longan, new shoes for bride)
Pillow and bed sheet
Tea set (if groom does not already have one)
Bowl set
2 pairs of Chopsticks
2 Bedside Lamps
1 Red Umbrella
Fate Coins for matrimonial bed setup (安床)
*Hokkien only* Sugar Cane
Jewellery (optional)
And that's it! Congratulations for making it through this process! Next up, the Matrimonial Bed Setup followed by the Hair Combing Ritual.
If you're finding having to prepare all this way too much of a hassle or too confusing, why not contact our wedding planners for a FREE consultation today? That way, you can be sure that everything will be completed easily and with less hassle.
If you're not sure on what you should plan next for your wedding, why not have a look at our Ultimate Wedding Checklist?
Visit Wedding.com.my for everything you need for your wedding.