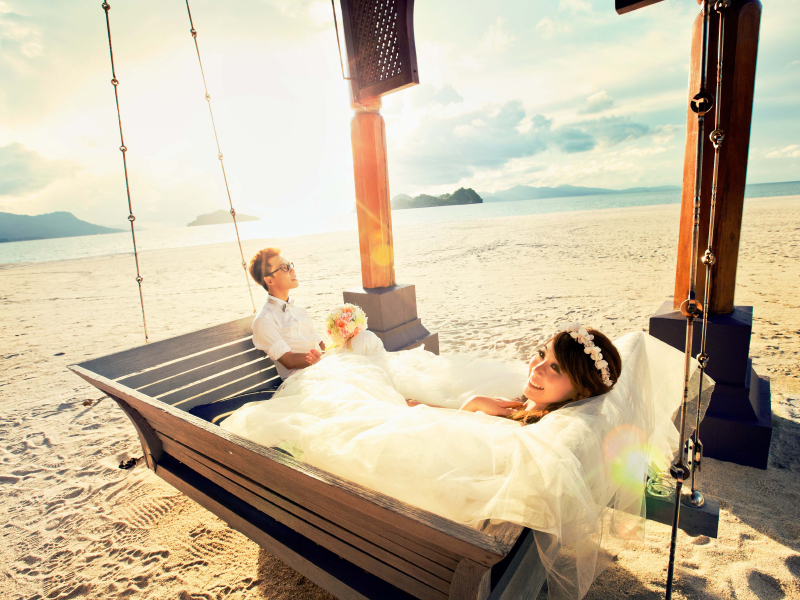 We've seen those simply romantic beach weddings and long for ours to come to reality when it's our turn to walk down the aisle. Beach weddings are mostly simple yet unique which can be very deceiving to those who plan to have a wedding of this type. There are a lot of considerations when it comes to planning for a beach wedding but we have broken it down to the 5 aspects that couples have to look into to make their beach wedding a success!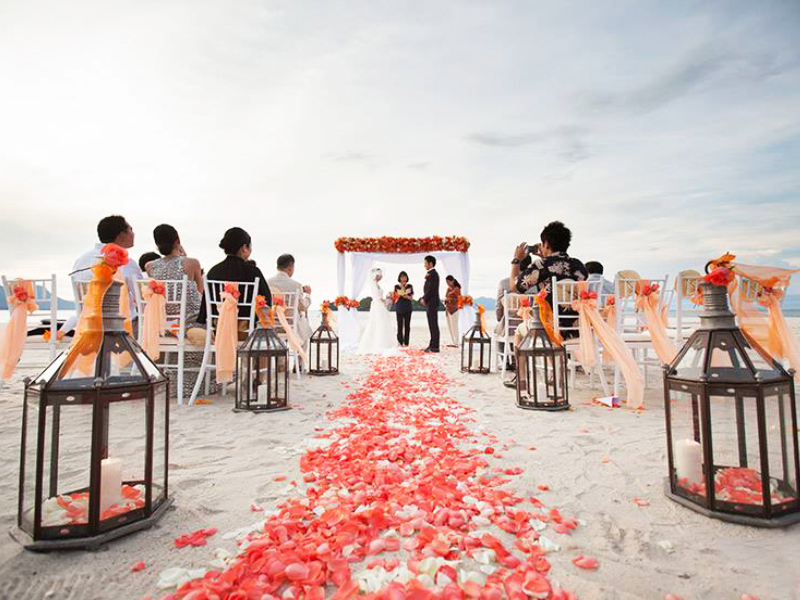 1. Date and Venue
The most important element that must come into consideration when it comes to planning for a beach wedding is the season that you will be choosing to hold your wedding in. Let's take Malaysia for example, with the monsoon season at the end of the year, it is out of the topic to hold a beach wedding at Pulau Redang where the strong winds will not only ruin everyone's hair but also the decorations on the beach.
Also, make sure it is at a private beach so that the resort can be a backup venue if the weather decides to go crazy on your wedding day. Public beaches are not recommended for a permit is needed and most of the time there will be a lot of distractions, plus, where will the guests run to when it rains?!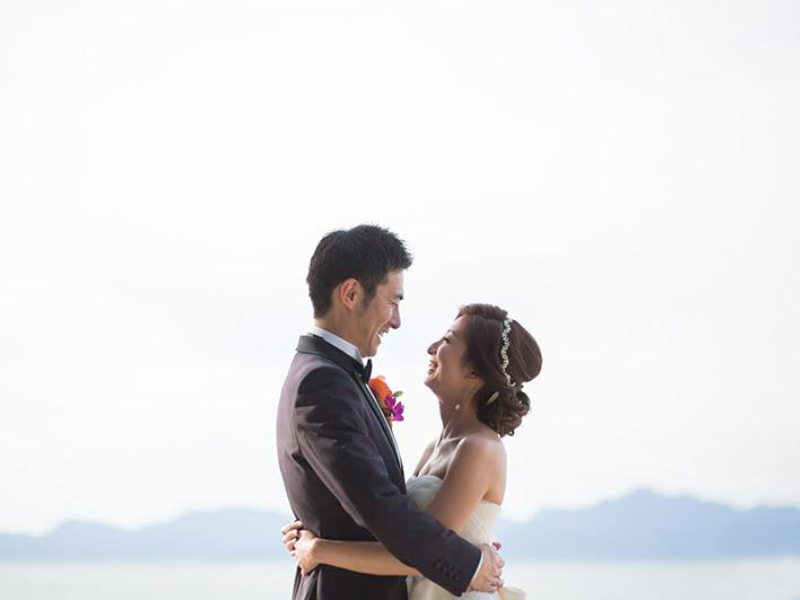 2. Attire
If you dreamed of wearing a highly detailed ball gown for your wedding, then you might want to reconsider about having a beach wedding. With the given natural conditions of the beach, a light-weighted dress will do well for the bride without making her sweat too much. Simple accessories such as a hair wreath or corsage can give the simple dress a nice touch of details for the bride. The groom can put on a cotton white shirt and pants that will also help him to stay cool. Comfort is the key to dressing up for both the groom and bride.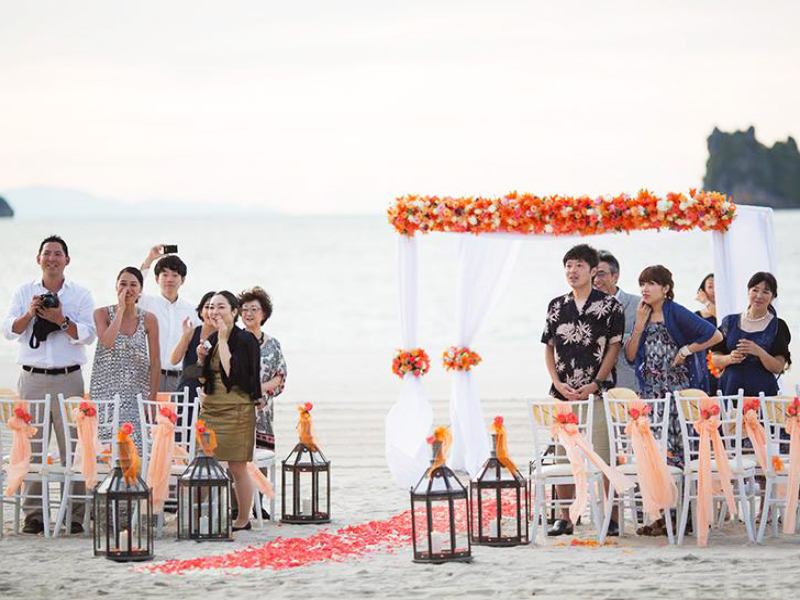 3. Guests
Prepare your guests for the wedding and remind them that it is a beach wedding so that they can dress appropriately, bring their sunhats or even their sunglasses. No one would be impressed to show up with stilettos and a tight-fitting skirt at a beach wedding, so make sure all guests are well-informed. Have a mini bar prepare refreshments for the guests to keep them occupied and happy throughout the wedding.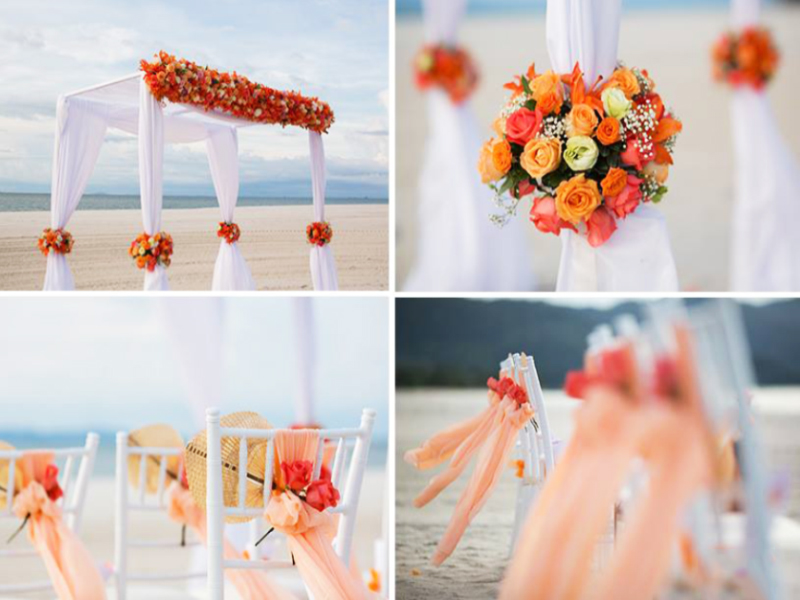 4. Decorations
Couples love to have flowers at their weddings and sometimes they do not pay attention to the suitability of flowers at different settings. Some flowers easily drop off just by a slightly strong breeze which makes it a bad choice for beach weddings as it makes a mess out of the intended decor. Tropical and exotic flowers that can withstand the heat, wind and sun such as orchids, lilies, bird of paradise and many others are great choices of flowers to decorate your beach wedding.
For those who plan to have a mini bar, wedding arch or any other large displays, make sure they are anchored strongly into the ground because a blown away wedding arch while reciting your vows is not romantic at all, plus, flying solid objects can hurt you and your guests when the wind is unexpectedly strong. Also, have a good sound system because the ocean breeze will be your enemy when you need to exchange vows or make simple announcements to the guests.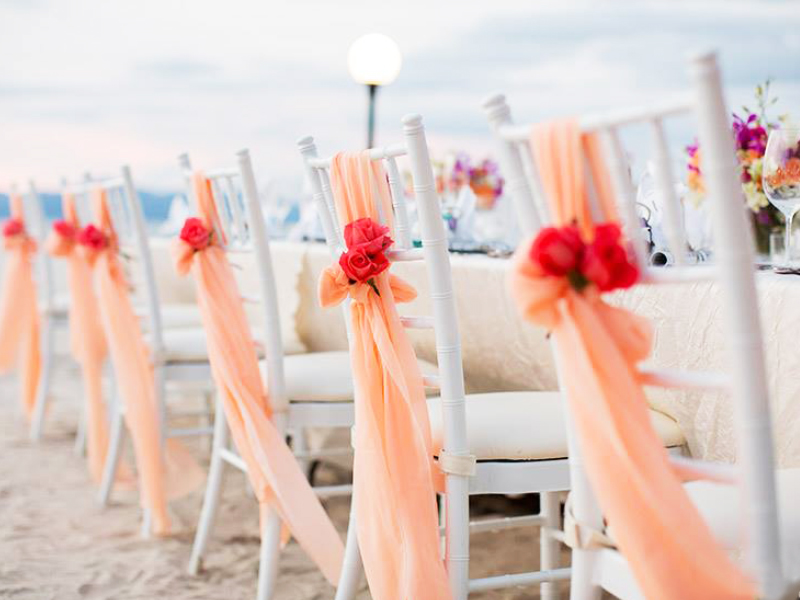 5. Plan B
Do not be stubborn and overly confident on the success of your beach wedding because the weather is out of anyone's control and may play truant on your big day. The reason why a private beach is highly sought after than a public beach is simply because the wedding can proceed in the resort's multipurpose hall if it rains. Some might think canopies are useful but again, only the top is covered and not the sides which will then be no help in sheltering anyone or anything. So for couples who plan to have their dream wedding at the beach, please have a second plan to ensure a smooth sailing wedding for you and your guests.
For more amazing ideas for your beach wedding and decorations, click here!