Kerana bulan madu haruslah seunik majlis perkahwinan anda.
Bersedia untuk berbulan madu? Pergi ke salah satu tempat menarik selepas melafazkan akad.
Prince Edward County, Canada
Mengapa Harus Pergi
Salah satu rahsia terbaik di dunia wain bukanlah dijumpai di Lembah Napa, California, atau Bordeaux, Perancis, tetapi di Kanada, di tepi Tasik Ontario. Di sana, wain-wain Prince Edward County (tidak terkeliru dengan Pulau Prince Edward di Kanada, yang terkenal dengan kerangnya) boleh dirasa di dalam bilik-bilik merasa secara percuma dari 30 buah estet wain. Ladang organik, laluan mendaki dan banyak pesona bandar kecil melengkapkan gambar. Warna yang menenangkan dan gelombang menderu yang memukul pantai bersalji membuat musim sejuk menarik seperti bulan-bulan yang lebih panas (dengan gembira, beberapa kilang anggur dibuka sepanjang tahun).
Lokasi Penginapan
Ketika Drake Devonshire Inn dibuka dua tahun lalu di Wellington, dua jam perjalanan dari Toronto, ia membawa pemandangan yang menakjubkan di sekitar Bandar tasik tersebut. Suasana  kem musim panas yang bercitarasakan galeri seni, dengan koleksi tetap yang mempamerkan karya-karya dari Brooklyn, yang dilancarkan oleh New York-street Duo Faile, dan pameran berputar dari pencipta Mackenzie Browning dan artis-artis lain. Setiap 11 bilik dan dua suite mempunyai keperibadian yang berbeza. Suite Pemilik A yang indah ini menawarkan pemandangan air yang memukau dan teres 'stargazing' peribadi. Sekarang, jika anda hanya boleh berhenti untuk memandang ke mata orang lain.
Apa Yang Perlu Dilakukan
Tanah dan iklim sangat mirip dengan Burgundy, Perancis, sangat baik (dan murah) chardonnay dan pinot noir memerintah tertinggi. Berhenti di Hubbs Creek Vineyard untuk merasai pinot, Syarikat Wine Hinterland untuk wain yang berkilauan dan Winery Norman Hardie dan Vineyard untuk chardonnay.
Saat Yang Tidak Boleh Dilepaskan
Ambil salah satu daripada wain anggur kegemaran anda yang baru dan nikmatinya selepas matahari terbenam di salah satu daripada tiga pantai berpasir yang luas di Taman Wilayah Sandbanks di Lake Ontario. Ia adalah Kanada, tetapi ia kelihatan seperti Caribbean-betapa indahnya itu?
New Forest, England
Mengapa Harus Pergi
Hanya 90 minit dengan kereta api dari Stesen Waterloo London, New Forest dirasakan seperti berada di kisah dongeng, lengkap dengan kuda-kuda  di hutan. Taman negara yang ditetapkan, New Forest adalah sempurna untuk mendaki dan berbasikal, dan pantainya mempunyai pantai-pantai yang indah seperti Calshot dan Milford on Sea. Kampung-kampung yang menarik seperti Brockenhurst dan Lyndhurst, dengan kedai makanan artisanal dan butik dan kafe yang dikendalikan oleh keluarga, dibuat untuk perkembaraan yang menakjubkan.
Lokasi Penginapan
Alami fantasi ladang di The Pig, sebuah hotel rumah negara 30-bilik di Brockenhurst yang menggabungkan pesona rumah dengan sentuhan mewah. Jangan ragu-ragu untuk melawat ke kebun dapur dan rumah hijau yang luas, atau kunjungi lima khinzir di paddock. Dengan tajuk menu yang merangkumi "diambil segar di waktu pagi," menjangkakan ketinggian flat di atas musim bunga dari ketuhar yang dipecat kayu serta harga makanan ringan seperti New Forest merpati panggang dengan cendawan tiram foraged. Anda akan mahu tinggal (selama-lamanya) di Berts Box yang direka dengan bijak. Tampak kecil, pondok ini merangkumi semua yang anda perlukan: dapur, ruang tamu, bilik mandi, bilik tidur dan hutan ajaib di luar.
Apa Yang Perlu Dilakukan
Harta The Pig, Lime Wood, hanya 10 minit untuk kesana. Luangkan hari di spa terkenal, Herb House, di mana Rawatan Bersama di Hutan bermula dengan aplikasi lumpur yang melembutkan kulit diikuti dengan terapi Ayurvedic yang disesuaikan khas untuk anda. Selepas berada di spa, pergi ke taman atas bumbung Kayu Lime untuk segelas jus atau wain. Menunggang kuda dan belayar adalah aktiviti berdekatan untuk dinikmati.
Saat Yang Tidak Boleh Dilepaskan
Iringi pakan babi itu dalam perjalanan melalui hutan atau di sepanjang pantai. Kerang, sayuran salad dan edisi lain yang anda akan dapati adalah apa yang anda akan makan untuk makan malam.
Pag, Croatia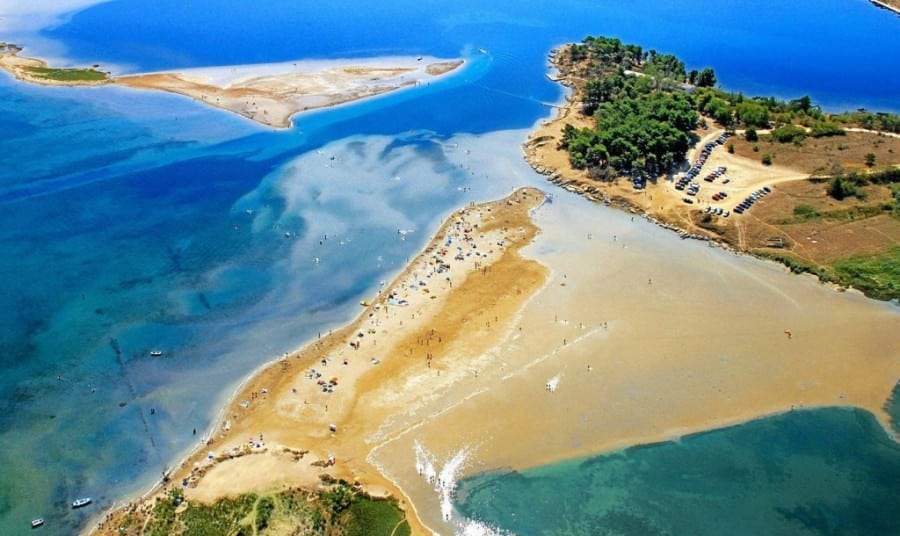 Mengapa Harus Pergi
Pulau yang berbatu di Pag mungkin dipanggil Ibiza Kroasia, terima kasih kepada kelab-kelab tarian yang dipenuhi di Zrce pantai parti yang terkenal, tapi alami cabaran  lebih jauh dan anda akan dapati beberapa pantai dan coves yang paling indah di semua Adriatik, tidak ketinggalan juga kebun anggur, kebun zaitun dan pemandangan pastoral yang menakjubkan.
Lokasi Penginapan
Anthony Bourdain meletakkan Hotel Boškinac dengan 11-bilik, di bandar Novalja, di peta ketika dia menikmati makan tengah hari semasa merakam No Reservations. Tempah meja yang menghadap ke kebun-kebun anggur di hotel dan bersiap untuk menikmati versi pulau moden. Rasa wain persendirian akan diperkenalkan kepada anda dengan wain yang lazat dan tidak dirasakan Croatia, termasuk Gegic, putih kering. Setiap bilik di hotel mempunyai skema warna sendiri, dan suite-suite mempunyai pemandangan ke taman-taman, kebun-kebun anggur dan laut.
Apa Yang Perlu Dilakukan
Jalan-jalan pada zaman pertengahan yang sempit di Pag dipenuhi dengan istana dan gereja-gereja. Berhenti di biara Benedictine St Margaret, di mana penyediaan roti kering aromatik yang biasa dipanggil baškotina masih disediakan.
Saat Yang Tidak Boleh Dilepaskan
Pag adalah salah satu daripada 1,000 pulau (66 dihuni) di luar pantai Croatia, dan pulau hopping adalah cara terbaik untuk menerokai segala-galanya dari pantai nudis ke kampung nelayan lama, atau  belayar melalui Hotel Boškinac ke pantai yang sepi untuk snorkeling di dalam air jernih
Hudson Valley, New York
Mengapa Harus Pergi
Sukar untuk mempercayai bahawa hanya 90 minit di luar New York City, anda akan dapati pemandangan landskap bergelora yang dipenuhi dengan bandar-bandar dan tanah pertanian yang menakjubkan. Penghuni kota yang telah berpindah tempat duduk telah membawa kelainan dan tenaga kreatif dalam bentuk kilang pembuatan kraf dan kilang penyulingan, studio seni dan restoran ladang – rendah hati dan haute.
Lokasi Penginapan
Tidak hairanlah bahawa Hotel Tivoli terasa seperti sebuah negara pemungut seni moden: Dibuka pada tahun 2014 oleh seniman New York, Helen dan Brice Marden, hotel kecil ini telah dikendalikan dengan teliti di setiap peringkat. Bar yang bergaya dengan lampu marmar Fior di Pesco marble dan lampu loket Murano berwarna merah jambu vintaj tidak akan terlepas dari tempatnya di Milan, dan koktel yang sangat baik datang dari kakitangan Mixh yang terkenal di Manhattan. Restorannya, The Corner, dengan hidangan yang diilhamkan oleh Mediterranean seperti porchetta dengan polenta, telah menjadi kegemaran di kawasan tersebut.
Apa Yang Boleh Dilakukan
Hadiah limpahan bermusim dan senarai pembeli yang cemerlang yang terdapat di Lembah Hudson menjadikannya sebagai pesta makanan. Pilih buah anda sendiri di Mead Orchards, ladang yang dikendalikan oleh keluarga yang mempunyai hampir 40 jenis epal. Atau tempah meja di restoran Fish & Game, di bandar Hudson, di mana bakat di belakang dapur termasuk chef yang memenangi pemenang Anugerah James Beard iaitu chef Zak Pelaccio.
Saat Yang Tidak Boleh Dilepaskan
Berada dengan rangkaian yang indah, Lembah Hudson adalah impian pejalan kaki, terutamanya pada musim gugur ketika pokok-pokok berwarna riot. Berjalan kaki sepanjang Walk of the Poets – berlingkaran 2.4 kilometer dengan pemandangan Jambatan Kingston-Rhinecliff dan banyak bangku dan gazebos-pada waktu matahari terbenam.
La Paz, Bolivia
Mengapa Harus Pergi
Tidak banyak tempat yang menggabungkan suasana bandar yang meriah (butik-butik bergaya, galeri seni yang funky dan restoran-restoran yang sangat baik) dengan beberapa landskap yang paling unik di dunia.
Lokasi Penginapan
Kerja dari artis Bolivia yang terkenal Gastón Ugalde (Andy Warhol dari Andes) dipamerkan di seluruh 53 bilik Atix Hotel, yang dibuka pada bulan Ogos. Setiap enam tingkat mengambil inspirasi dari ekosistem Bolivia, seperti Amazon atau Lake Titicaca. Pada waktu petang, berkunjung ke bar di atas bumbung dan tampil dalam pemandangan panorama kota sementara pakar bintang Amerika Selatan, David Romero membuatkan anda koktel yang luar biasa, atau dua.
Apa Yang Perlu Dilakukan
Satu jam penerbangan meletakkan anda di salah satu tempat paling nyata yang anda akan lihat-Salar de Uyuni, sebuah flat garam yang terbentang ke infiniti (lebih daripada 4,000 batu persegi). Dan hanya 20 minit dari pusat bandar adalah Valle de la Luna (Lembah Bulan), di mana angina yang sudah berabad telah menghancurkan gunung-gunung ke dalam labirin puncak gunung berapi yang indah, spiers dan canyons.
Saat Yang Tidak Boleh Dilepaskan
Claus Meyer, pengasas  inovatif dari Copenhagen's Noma-salah satu restoran terbaik dunia-sedang membina semula tempat makanan Bolivia. Di Gustu, poached paiche (ikan Amazon) dan asap bagre (ikan keli laut) dengan pintaboca (salah satu jenis kentang 1,200 Bolivia) hanya beberapa hidangan unik yang akan anda temukan.
Costa de Prata, Portugal
Mengapa Harus Pergi
Costa de Prata (Silver Coast) adalah seperti versi Portugal Big Sur, California. Peregangan pantai yang indah ini bermula dari selatan Porto dan berjalan satu jam di utara Lisbon. Luncuran yang hebat, kawasan luar yang liar dan pantai yang tidak disentuh memikat pencinta alam semulajadi yang mencari jalan keluar yang luar biasa serta makanan laut dan budaya yang murni dalam bentuk istana dan biara buku cerita.
Lokasi Penginapan
Areias do Seixo, sebuah layanan tepi pantai eko-chic yang kurang dari sejam dari Lisbon, mempunyai hanya 18 bilik dan vila, setiapnya dihiasi dengan hiasan kayu driftwood, tanglung Moroccan dan tempat api. Pada waktu malam, minum wain tempatan di sekitar api unggun di pantai atau dari teres peribadi anda sendiri.
Apa Yang Perlu Dilakukan
Manfaatkan basikal percuma Areias do Seixo dan jelajahi pantai dengan dua roda. Berbasikal ke pantai Santa Rita yang indah, dan ketika dalam perjalanan, berhenti untuk melihat runtuhan biara Penafirme. Makan tengahari di Grão d'Areia, bar pantai yang terkenal dengan salad gurita, adalah apa yang dipanggil selepas beberapa jam matahari dan meluncur.
Saat Yang Tidak Boleh Dilepaskan
Biarkan ke Areias do Seixo untuk menyusun makan malam romantis dengan lilin untuk dua orang di tepi tasik atau di dalam hutan, di bawah pokok pines. Hidangan berdasarkan bahan-bahan yang ditanam dari taman dapur hotel dan rumah hijau dan dipasangkan dengan wain Portugis.
Kep, Kemboja
Mengapa Harus Pergi
Kemboja menawarkan begitu banyak budaya dan masakan yang luar biasa kerana ia lebih kepada tarikan pelancong-Thailand dan Vietnam-mengurangkan orang ramai bersesak. Dari pergantian abad ini hingga 1960-an, Kep adalah pilihan resort tepi laut Kemboja untuk golongan elit Perancis dan Khmer diraja. Hari ini kesesakan yang tidak diingini di bandar ini membolehkan anda mahu menikmati matahari terbenam yang menakjubkan. Anda juga boleh menikmati makan di salah satu pondok ketam yang terkenal, memulakan lawatan belayar atau melawat taman kebangsaan dan kampung setempat yang berdekatan.
Lokasi Penginapan
Lima villa yang diilhamkan Le Corbusier di Knai Bang Chatt menawarkan 18 bilik dilengkapi dengan katil jati, barang antik tempatan dan peninggalan Khmer. Bilik-bilik dengan pemandangan Teluk Thailand adalah yang paling popular-tempah satu dengan teres peribadi. Para tetamu boleh menyewa motosikal, kayak atau Kucing Hobie di Kelab Pelayaran bersebelahan, kemudian berehat dengan urutan, hanya beberapa langkah dari air, dan tiga hidangan yang mungkin termasuk ikan amok dan ketam lada hijau.
Apa Yang Perlu Dilakukan
Melayari jalan pesisiran dengan tuk tuk adalah cara terbaik untuk merehatkan diri anda di landskap padi. Knai Bang Chatt boleh mengatur perjalanan yang termasuk berhenti di ladang lada tempatan, pagar Keo Krosang yang berwarna-warni dan kampung Chamcar Bei, di mana tukang-tukang membuat tenunan tradisional (shawl).
Saat Yang Tidak Boleh Dilepaskan
Perjalanan dengan bot nelayan peribadi ke pantai berpasir yang jauh dari Koh Tonsay (Pulau Arnab). Lounge di tempat tidur buaian atau menyelam di perairan cetek yang tenang sementara seorang tukang masak peribadi menyediakan pesta barbeku makanan laut yang dipasangkan dengan Angkor lager yang sejuk. Anda akan selesa dengannya.
Garden Route, South Africa
Mengapa Harus Pergi
Daripada berjalan ke pedalaman untuk safari tradisional, adalah lebih baik untuk ke pantai untuk mengalami Marine Big Five: ikan paus, ikan yu, lumba-lumba, anjing laut dan penguin. The Garden Route, salah satu pemandangan yang paling indah di dunia, menjangkau 125 batu antara Mossel Bay dan Port Elizabeth, dan mudah untuk mengendalikan penginapan Cape Town yang dinamik.
Lokasi Penginapan
Grootbos Private Nature Reserve adalah eko-syurga 2,500 ekar dengan pemandangan Walker Bay. Tinggal di Garden Lodge atau Forest Lodge, terletak di tengah-tengah pokok susu purba. Pemilik Michael Lutzeyer adalah tuan rumah yang mengalu-alukan, dengan gembira untuk berkongsi pengetahuan tentang semak asli semasa bunga safari 4×4 serta keghairahannya untuk wain Afrika Selatan.
Apa Yang Boleh Dilakukan
Manfaatkan kestabilan Grootbos dan jelajahi Cape Floral Kingdom dengan menunggang kuda. Mainkan kad anda dengan betul dan perjalanan menaiki matahari boleh berakhir dengan berkelah dengan champagne di pantai. Sekiranya bunyi itu terlalu jinak, sentiasa ada sangkar menyelam dengan jerung.
Saat Yang Tidak Boleh Dilepaskan
Tebing di Walker Bay adalah yang terbaik di dunia untuk menonton ikan paus. Atau ambil kehidupan marin dari atas: Grootbos mempunyai landasan udara sendiri dan menawarkan penerbangan indah ke Walker Bay.
Alaska Range, Alaska
Mengapa Harus Pergi
Pergunungan menara, tundra terbuka yang luas dan fjords dramatik memberikan latar belakang yang mengagumkan bagi mereka yang ingin merehatkan diri. Kelebihan barat dari Alaska Range menawarkan pengalaman pengembaraan dan santai. Apa yang lebih romantis daripada bersenang-senang dengan menonton tarian Lampu Utara merentasi langit?
Lokasi Penginapan
Hanya boleh diakses dengan kapal terbang atau ski, Winterlake Lodge yang dikendalikan oleh keluarga menawarkan kemewahan di padang belantara. Lima kabin tersebut mempunyai katil kayu buatan tangan dan dapur kayu cast-besi. Anda akan dimanjakan oleh rasa wain dan keju, jam koktail dengan camilan seperti ketam raja, dan hidangan makan malam seperti tenderloin rusa dengan kentang lemak itik. Hilangkan rasa kenyang anda dengan yoga di pondok utama.
Apa Yang Boleh Dilakukan
Lawatan kereta salji memberi ganjaran kepada anda dengan pemandangan yang tidak dikalahkan Denali (gunung tertinggi di Amerika Utara). Toboggans untuk bersiar-siar dan berkelah dengan salji coklat dan koko yang panas akan membuat rendaman dalam tab mandi panas lodge yang lebih berkesan.
Saat Yang Tidak Boleh Dilepaskan
Masa lawatan anda untuk menonton Iditarod, luncur anjing legenda, pada bulan Mac. Atau belajar memandu pasukan anda dengan pakar lodge dan 20 anaknya.
Sacred Valley, Peru
Mengapa Harus Pergi
Dikelilingi dengan Andes, Sacred Valley of the Incas mengangkut anda jauh dari masa ke masa dengan cara pelancong Cuzco yang tidak lagi boleh didapati. Ia adalah pangkalan yang tenteram dari mana anda boleh membuat perjalanan ke tapak arkeologi seperti Moray dan Pisac. Dan sementara Lima menempatkan Peru pada peta makanan global, anda akan mendapati makanan yang lazat di sini juga.
Lokasi Penginapan
Terletak di tengah-tengah lembah, Hotel Sol y Luna terasa seperti Eden, dengan taman-taman eksotiknya yang menarik 35 spesies burung. Senibina tempatan diilhamkan dari casitas tanah liat dan batu resort di hartanah Relaise & Châteaux ini. Unggun api dan teres persendirian dengan Jacuzzis menjadikan casitas premium berharga secara eksklusif.
Apa Yang Boleh Dilakukan
Rasai pengalaman Andean di spa Sol y Luna. Sesi hydrotherapy yang diasingkan dengan garam dan minyak dan diikuti dengan mandi wap dan urut.
Saat Yang Tidak Boleh Dilepaskan
Melancong di salah satu kuda Paso Peru di Sol y Luna membolehkan anda mengalami salah satu landskap yang paling menakjubkan di dunia.